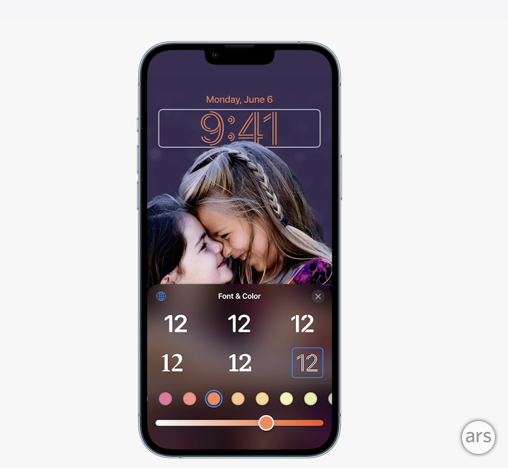 CUPERTINO, Calif.—iOS 16 will reach iPhones later this year, and as expected, it's loaded with major changes.
Apple executives and product managers took the stage at the company's Worldwide Developers Conference keynote to outline the upcoming features and changes, which include a focus on the lock screen.
iOS 16 brings more personalization options to the lock screen, like a "depth effect" where you can make a selected photo appear in front of the time. You can also press and hold to customize the lock screen and swipe to try out different styles, like black-and-white and other color filters, and font and color options for the text and time.
An Apple executive demoed how customization works, tapping on items, like the time, to try out different colors, including using a slider for tweaking shades.
The lock screen also now supports widgets. Apple demoed moving the lock screen's photo to make space for widgets, like calendar and weather. A block can hold multiple widgets, with Apple briefly mentioning a widget kit for developers.
There's also a new wallpaper gallery, with Apple demoing various options, including animations, nature photographs, and "suggested photos" based on your photo library.
iOS 16 will also enable different lock screens, which you can toggle through and select by swiping.
Notifications are also revamped with iOS 16. They'll now roll in from the bottom of the lock screen, and you'll have the ability to hide them throughout the day.
With iOS 16, Focus can apply to the lock screen and different apps. For example, you could make it so that when you use Safari, you won't see specific texts, emails, and calendar events. Apple said there's a new API for developers around this.
For times when you're getting multiple notifications from the same app, Apple announced Live Activities for making real-time notifications more manageable and for creating "compact and glanceable experiences." For example, you could view the action of a sports game on your lock screen. The Live Activities API won't be available until later this year after iOS 16 launches, though.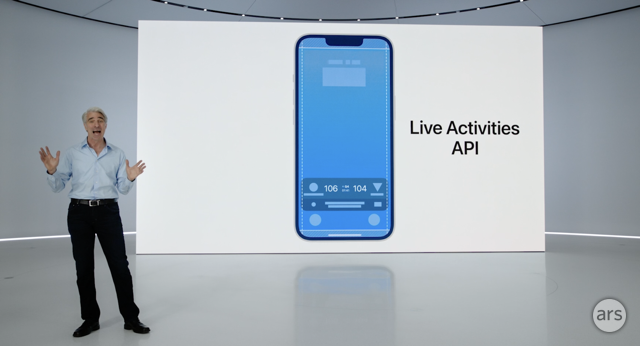 Other changes include the glorious ability to undo a sent message in Messages; although it's doubtful this will work with iPhone-to-Android texts. iOS 16 will also add the ability to mark threads as unread in Messages.
iOS 16 should also make it easier to use SharePlay while FaceTiming with one-tap access during video calls. SharePlay will also be available in Messages with iOS 16.
The iPhone OS will add a new dictation feature that keeps the keyboard open while switching across apps. Apple also demoed selecting text with touch and then using dictation to replace it. The Dictation app will also add punctuation to long messages.
Live Text to video allows you to pause a video on any frame and interact with text, which you can already do in Photos. The feature is said to be helpful for copying code samples, for example. You can also use Live Text in the Translate app in iOS 16.
iOS 16 will also add an automatic lasso-like tool that lets you press-and-hold to select an image from a photo and put it in a different app, like Messages.
In the Wallets category, Apple announced the ability to add boarding passes and movie tickets and easier management of transit cards. There are also Apple Pay enhancements, including the ability to split bills and keep track of who owes what in Wallet. Apple Pay will purportedly become more ubiquitous, as Apple announced that starting this month, "millions" of stores will be able to take Apple Pay without buying extra hardware. Apple also announced Order Tracking for the app, for things like receipts and tracking information.
Maps, meanwhile, will support 15-stop trips. You can start those long trips on your Mac and then send them to your iPhone and ask Siri to add stops to your route.
For devs, Apple pointed to MapKit improvements, like a more richly detailed city experience and the ability to integrate the detailed map into their apps. Apple said it will add Look Around to MapKit for high-res images, as well as new server-side APIs.
The iOS 16 News app is getting a My Sports section to follow your favorite teams and watch highlights, which will sync with the Apple TV app.
Family-focused enhancements include the ability to share purchases with up to five family members, respond to children's content access requests via Messages, and the launch of iCloud Shared Photo Library to share photos with your family.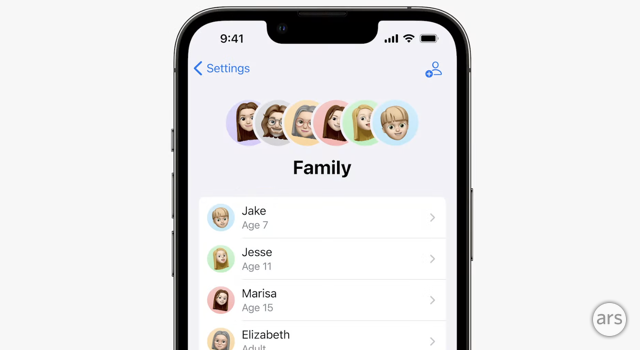 However, you may not need to be related to use the latter. iOS 16 will add an option in the Camera app to send photos to the shared family library as soon as they're taken.
Apple wrapped its iOS 16 talk with a discussion on privacy and the launch of Safety Check, which will provide an overview of shared passwords and the ability to reset shared access. The Safety Check feature will also make it easy to stop sharing your location through the Find My app and can reset all apps' privacy permissions.
iOS 16 will reach users later this year.
Apple's WWDC keynote is ongoing, and this article will be updated with new details as we have them. You can follow along in real-time with our liveblog here.