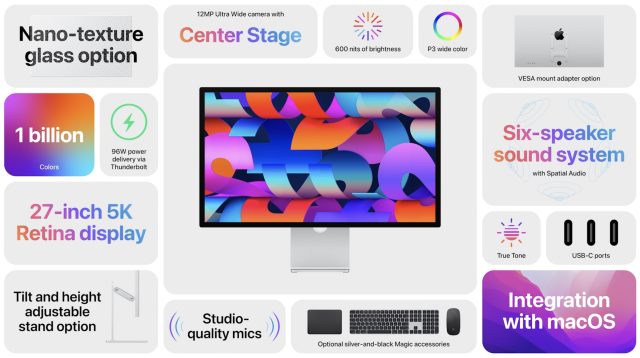 It took quite a time, but Apple has finally re-entered the consumer desktop monitor space with the Studio Display.
It's been a decade since Apple last made and sold a consumer desktop monitor; the long-beloved Apple Cinema Display was discontinued in 2011. Apple has instead partnered with LG to sell monitors the South Korean company has made for Macs through Apple's online store. LG's monitors generally received decent reviews, but they weren't much to write home about, all things considered.
Not so with the new Studio Display, it seems. The new monitor is designed by Apple, not LG, and it features Mini LED technology, which was previously seen in Apple's pricy, pro-focused Pro Display XDR monitor, the 12.9-inch iPad Pro, and the 14- and 16-inch MacBook Pros. Mini LED has also appeared in high-end TVs from Samsung.
Mini LED displays seek to rival OLED's picture quality by backlighting a traditional LCD screen with numerous tiny LED lights, rather than using one single back or edge light. The tech allows for very bright displays to still offer decent black levels, which means better contrast and more accurate colors. It doesn't quite match OLED, but it can get brighter than most OLEDs, and it doesn't carry a burn-in risk.
The Mac Studio monitor can work as one of many monitors simultaneously connected to the new Mac Studio desktop and its new M1 Ultra Chip.
This story is developing. You can see all the latest updates from Apple's "Peek performance" event in our liveblog.
Listing image by Apple